Not to be outshined by the 2015 Escalade, which made its debut in New York on 7 October, a British customiser has rolled out a bespoke interior for the luxury SUV's previous generation.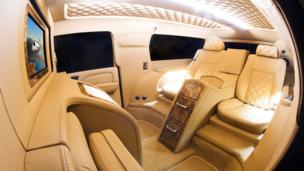 (Carisma Auto Design, via Newspress)
The services of Essex-based Carisma Auto Design are called on when a client requires something not found on any option sheet. In the case of this Escalade, that means lead crystal glassware, Connolly hides, a diamond-stitched headliner, a 42in high-definition television screen and enough private-jet swagger to suggest Embraer built the body, not General Motors.
Heightening the jet-set effect are body panels moulded with some curve to them, a not-so-easy feat given the Cadillac's resolute rectilinearity. The 700 hours of labour also included armouring the SUV to B4 level, a ballistics rating awarded to vehicles that can withstand detonations of explosives from below the fuel tank.
Carisma executives view this particular Escalade as the firm's "springboard" into the North American market. Says Clive Drake, director of sales and marketing: "It is a robust vehicle which lends itself to unique interior designs and we look forward to releasing the product and adding this to our portfolio in July."
No word on pricing for the package, but if you must ask…
http://www.obd2works.com