It certainly doesn't hurt when the right car is the 550xi S2, the latest high-performance conversion from California-based tuning outfit Dinan. The company has been extracting more Bimmer-ness from BMWs since 1979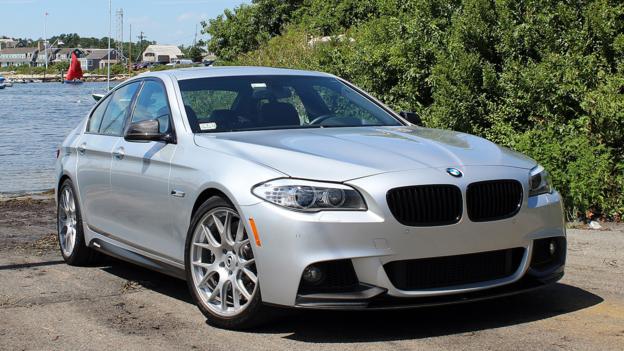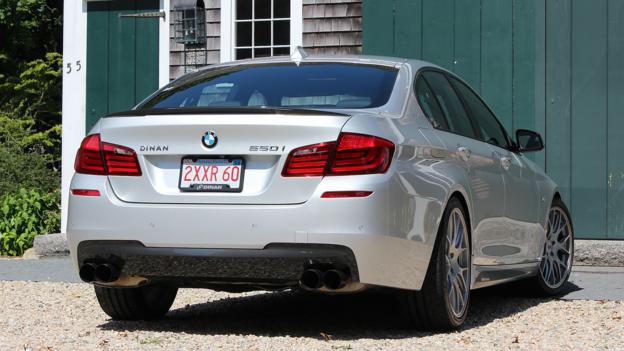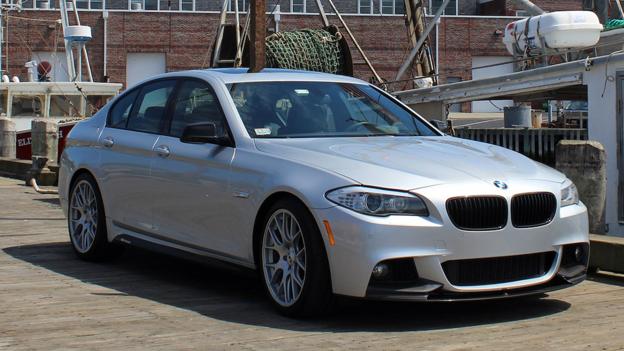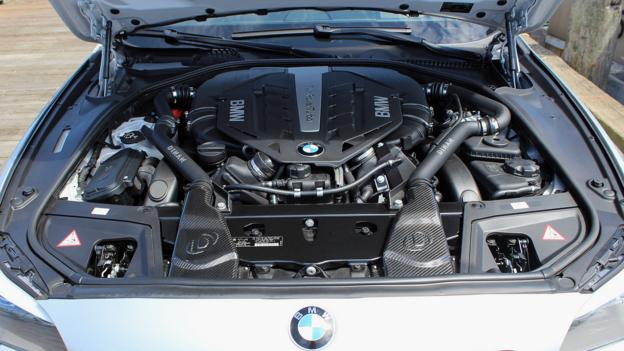 Dinan works much in the same way as an in-house tuner, such as Mercedes-Benz's AMG unit or BMW's own M division, weaving roguish magic – backed by warranty – on stock vehicles. Starting with a 550i xDrive sedan fitted with a twin-turbocharged, 445-horsepower 4.4-litre V8 engine and an eight-speed automatic transmission, the technicians at Dinan treat the car to its Stage 5 performance upgrade, which recalibrates the engine control unit software and power band. The only transplants performed in the operation are the addition of a high-flow intake system and custom intercoolers, which boost the 550xi S2's total output to 508hp and a
Viper
-like 584 pound-feet of torque, helping to produce an exhaust note worthy of a monster-movie villain.
Beyond go-faster modifications, the 550xi S2 package also includes adjustments made to the suspension and shocks via the originally fitted electronic damper control. At first blush, the power upgrades are greatly at odds with the understated exterior cues worn by the 550xi S2. A resculpted front fascia with larger air intakes, along with optional carbon-fibre front splitter and stout 20in wheels on super-sticky tires, distinguish the 550xi S2 from factory-direct Bimmers, but in a way that may only be apparent to cognoscenti.
The immediate comparison is not to a 550i xDrive, but to BMW's high-performance M5 sedan. That car may hold a 52hp advantage over the S2, in addition to a race-inspired seven-speed dual-clutch gearbox. The facile comparisons, however, stop there. For one, the S2 costs roughly $30,000 less than the comparably equipped, factory-direct Autobahn burner. For another, the gestalt of the M5 is most appreciable on a track, where the car's rear-wheel-drive setup allows it to slide and bend and generally act a $110,000 hooligan. The 550xi S2, meanwhile, retains its donor 550's all-wheel drive system, making it an all-weather rocket.
That is not to imply the Dinan is a
Subaru
. Dialled to Sport+, the recommended setting for maximising performance, the S2 tightens up its throttle delivery and suspension but still feels every bit as manageable as the donor 5 Series. An M5, on the other hand, can inspire mild panic with its overcooked reactions to steering and throttle inputs. Regardless of drive setting, the Dinan does not eliminate the numbness in the stock 550i xDrive's steering – a sorry trait shared by recent BMW sedans – but because of its revised throttle mapping and added grunt (as well as a discarded speed limiter), the S2 is said by Dinan to be capable of 200mph.
The enduring takeaway is that the 550xi S2 is more than just an M5 "on the cheap". As a cold twinge creeps into the weekly forecasts, the 550xi S2 begins to make a lot of sense to the owner who would forego a badge for a more precious commodity: usability.