There is something outlandish about the Wraith, even mysterious. The shape of it, the size. The Ghost-derived fastback coupe has a brooding, almost menacing stage presence that is markedly different from any other Rolls-Royce model, present or past.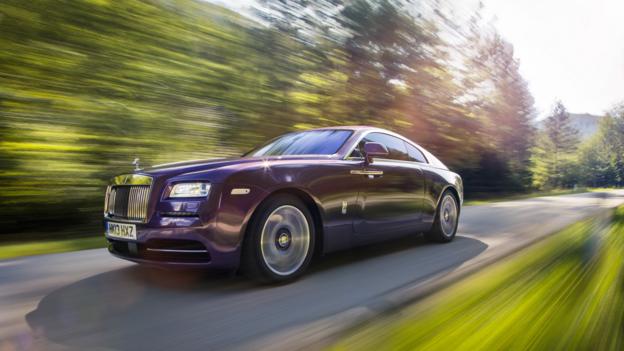 The Wraith is very large – much more so in the metal than it appears in photographs. Its roofline is 13in lower than that of a Range Rover, but the Rolls is fully 11in longer end to end. Those famous Rolls grille strakes are deeply recessed to impart the look of a fighter jet's gaping air intake, and even the Spirit of Ecstasy hood ornament seems a little urgent, canted forward like an Olympic ski jumper.
The car has a more hunkered, angry stance than the plutocratic Phantom Coupé, though like that car, the Wraith makes no effort to conceal its enormity with visual sleight of hand. It is big, with broad shoulders and a laser-sharp beltline crease that makes it supremely disposed to two-tone paint jobs (Rolls offers some 40,000 off-the-shelf colour combinations).
In the golf-and-cocktails-disposed commune of Scottsdale, Arizona, a brief stoplight meeting with the much smaller, though still hardly petite, Bentley Continental GT highlighted the Wraith's grandiosity – and served as a reminder that despite the motoring media's gnawing need to imagine that every vehicle has at least one prime rival at whose heels it hungrily nips, some simply do not. That is the Wraith. It is a luxury coupe that defies comparison with other luxury coupes. Shoppers smitten by the Wraith are not fastidiously comparing warranty specifics or EPA mileage figures with the Continental GT or the Mercedes-Benz CL or the Ferrari FF. The Wraith is, simply stated, too fast, too large and too opulent to qualify as anything other than a purchase of passion.
The passenger compartment is a stupendous place to while away the miles. The broad-rim steering wheel, the tall dashboard and the expansive hood's chrome centreline impart the requisite sense of occasion. Hides are aromatic and impossibly supple, and the optional lambswool floor mats positively demand the doffing of shoes. The front seats are as outsize as the rest of the car, but the back seats hold their own. Despite its rakish roofline, the Wraith is a genuine four-seat automobile; its two-place rear compartment accommodated this writer's 6ft 2in frame with ease.
The Wraith's starting price in the United States is a cool $288,600 – "But we'll never sell one for that", says Richard Carter, the marque's impeccably attired director of global communications. And, of course, he's right.
A liberally optioned Wraith – which is to say any Wraith – is a world of wonder: the Starlight Headliner ($12,925), with its 1,340 hand-placed fibre-optic points of light, is as neat a trick as ever, and Canadel Panelling ($9,500 to $12,500, depending on wood species) is a high feat of artisanship. The open-pore veneer panel that lines each colossal coach door, its grain aligned at a perfect 55 degrees, is the largest swath of wood ever used in a production car. The Wraith is awash in such superlatives, the memorisation and frequent recitation of which may prove compulsory among owners.
The tested car's bottom line was more than $373,000, and it came in without such confections as $4,600 personalised treadplates or a $9,100 gold-plated Spirit of Ecstasy ornament. And should a buyer wish to hire the Rolls-Royce Bespoke team to craft, say, a titanium ski rack or colour-matched ostrich-hide seats, well…
On the road, this most driver-centric of Rolls-Royces is swift and silent. The 624-horsepower twin-turbo V12 engine does its job invisibly; only during full-throttle sprints do occupants hear its distant burble. "Sporty" is a word that, when applied to the Wraith, makes Rolls-Royce officials scowl and wag fingers. Their coupe – despite its prodigious capacity for speed – is not sporty, and it is certainly not a sports car. (At 5400lbs, it weighs as much as two Subaru BRZs.) Carter waves off questions related to Nürburgring lap times and other bourgeois measures of a car's athleticism. "The Wraith is the ultimate gentleman's gran turismo," he says, exquisitely rolled Rs and suave flip of the hand accentuating his point. "It is that simple."
Indeed, there is no "sport" button on the centre console, and no tachometer amid the gauge cluster (counting revolutions per minute is so… mechanical). In the tach's stead sits a Power Reserve gauge. Similar to the small dial on the dashboard of a Bugatti Veyron, the Wraith's percentage gauge is marked from zero to 100, and presents the driver with a somewhat less-than-scientific report of what remains beneath his or her right foot at any given speed. Wafting along at an already extralegal 80mph, the needle hovers at 90%, suggesting the engine has some 560hp left to deliver. It is an impressive, if slightly whimsical, feature, one that constantly reminds the driver of the car's enormous untapped potential.
Rolls-Royce is ever-reluctant to discuss stopwatch-derived measurements of the Wraith's athletic abilities, but notes that it will make the journey from zero to 60mph in 4.4 seconds and press on to an electronically limited top speed of 155mph. Ungoverned top speed is, for now, unmentioned, but there seems little question that despite its weight and defiant front end, the big coupe could flirt with 200mph.
Buoying this performance is Rolls-Royce's satellite-aided transmission, the first application of the technology. In short, the system watches the map for upcoming curves, corners, motorway junctions and roundabouts, and engages the proper gear in advance. Says Carter, "It's like having your butler lean in and whisper, 'I've gone ahead and selected sixth gear for this one, sir.'" It's a delightful sketch, but in truth, satellite-aided transmission seems a bit like the emperor's new clothes: We accept that it is there because we are told so, but in reality, we can't see a thing. And maybe that's the point. Carter asserts that Rolls-Royce's corporate parent, the BMW Group, was so impressed by the Wraith's cartographically cognizant cogs that it plans to implement the feature in future BMW models. So there.
The first car to carry the Wraith name, from 1938, was sold to coachbuilders as a running chassis, which guaranteed that every one of the 492 examples looked different. And that is the impression imparted by this new Wraith. It feels entirely singular, as if the one you are driving is the first and only one ever made. That suits Rolls-Royce just fine.
"Rolls-Royce is not a company focused on volume," Carter says. "Rolls-Royce is a company focused on profit."
http://obd2supplier.blogspot.com/