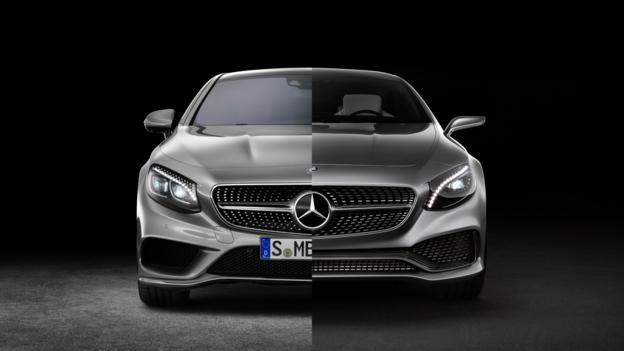 Anticipation for the Coupe has run rampant since September 2013, when Mercedes unveiled the Concept S-Class Coupé at the Frankfurt motor show. Best-in-show chatter stalked the long, lithe grand tourer well after the event had come to a close. Early talk around the production car, which Mercedes recently previewed online, has been similarly glowing, with Road & Track writing that "all the hotness of the concept has made the production cut" and TopGear.com mustering, in classic understatement: "doesn't look too shabby, does it?"
Yet keen eyes will spot some significant changes.
The concept was a taut, tailored hunk of alloy, with no skirts or slits disturbing its essential fluidity. The body curled underneath the chassis, giving the car a lighter, tighter appearance than any heavyweight German grand tourer has a right to muster. For production, this impression has been minimised, if not lost. A horizon-flat, aggressive side skirt now protrudes from between the wheels, and the concept's distinctive tail up-kick has been straightened by more than a few degrees. These changes conspire to make the S-Class Coupe appear more planted but also more portly.
The unbroken smoothness of the concept's body has yielded, too. Mercedes sliced downward-stabbing vents into the production car's rear bumper, referencing a family trait from the company's AMG high-performance models. Moving to the roof, show goers will see a lot more metal than they did in Frankfurt. Whereas the hard stuff was draped like tracery around the concept's skylight glass, the imperatives of rollover protection have required a bit of beefing up.
Compare the production car to the concept in the slideshow above, and let us know: has something essential been lost in translation, or did Mercedes do right by its Frankfurt show-stopper? Share your thoughts on Facebook, or message us on Twitter.